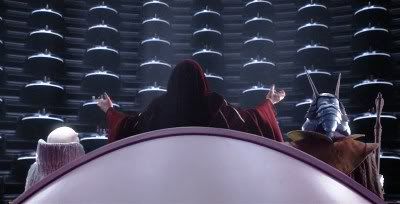 EXECUTE ORDER 66




And with those words, a death blow is delivered to peace and liberty
in the galaxy.The guardians of justice are slaughtered systematically,
from their wizened masters to their most innocent young.




THE REPUBLIC WILL BE ORGANIZED
INTO THE FIRST GALACTIC EMPIRE




While Order 66 killed the guardians of justice, the organization of
the Empire killed justice itself, leaving the galaxy in a state of
chaos, where those sympathetic to democracy are forced into hiding.
Only those who follow without question the commands of the Sith
Lord, Emperor Palpatine, survive.



WHEN LIBERTY DIES,
WHAT ELSE REMAINS?




Only a small remnant of the Jedi, and a very few lovers of true
freedom survive to hide away and bide their time. A small resistance
begins to rise out of which will eventually rise the Rebel Alliance.
But for now, sentient beings all over the galaxy must find a way to
survive in the face of a tyrant's government.

Won't you join us?

PREMISE::RULES::APPLICATION::TAKEN/HELD